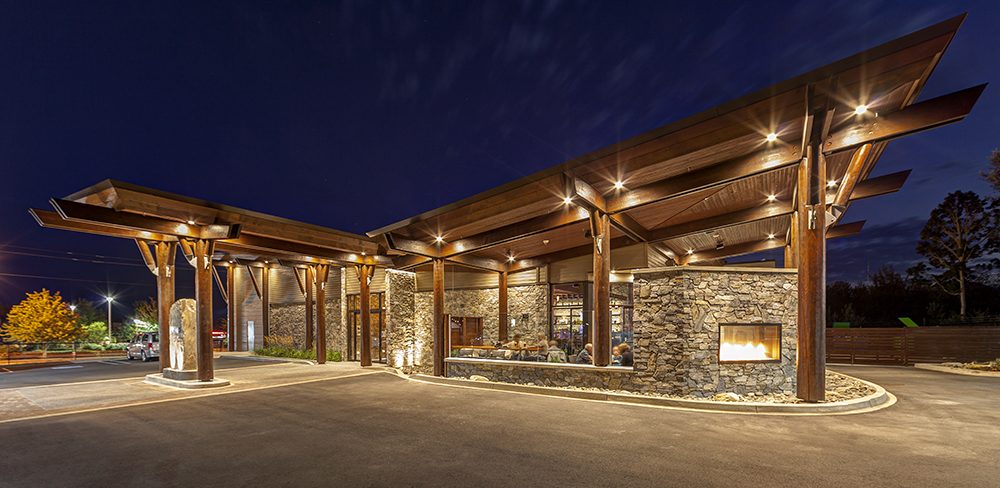 Prime Chophouse and Wine Bar
Big City Design Meets Small Town Attention to Detail
A small town gets a big-city restaurant
Prime Chophouse and Wine Bar
Big City Design Meets Small Town Attention to Detail
A small town gets a big-city restaurant
Located in Courtenay, this new restaurant and wine bar features a contemporary West Coast design and extensive use of wood, heavy timber, natural stone and glazing.
Contracted by the owner during pre-construction, AFC was hired to review the feasibility of building a standalone restaurant along a busy Courtenay corridor. Several estimates, with increasingly detailed drawings were developed. AFC's construction budgets were used to refine the design, meet the client's budget, and move the project to tender. After building permits were obtained, the construction contract was converted to fixed-price.
As construction managers, AFC coordinated all facets of the project, assisting consultants and approving authorities. Value Engineering and cost savings were offered by AFC and incorporated during pre-construction
This 8,000 ft2 stand-alone restaurant features many high-end finishes and local products. The main part of the restaurant is tied into a smaller, and simpler, framed kitchen and service area. It shares common shear walls but sits below the main building overhangs. The interior walls are decorated with stone veneer which required seismic attachments due to wall height. The landscaping utilizes indigenous and low-maintenance planting.
The final construction resulted in an extraordinary standalone building using local timber frame and stone elements, with fine interior finishes seen almost exclusively in larger, metropolitan centres.
Having been aware of your firm's track record, we were gratified to learn of AFC's appointment to this project for which we were the Architect. As expected we found AFC's industry knowledge and experience, organization methodology and on-site procedures to be most professional, with "quality of the work" as the underlying objective at all times. We would be pleased to recommend AFC most highly to anyone seeking general contracting services.

Antoni James Warner, James Architects
Upscale and Casual
A refurbished exterior for this popular local bistro