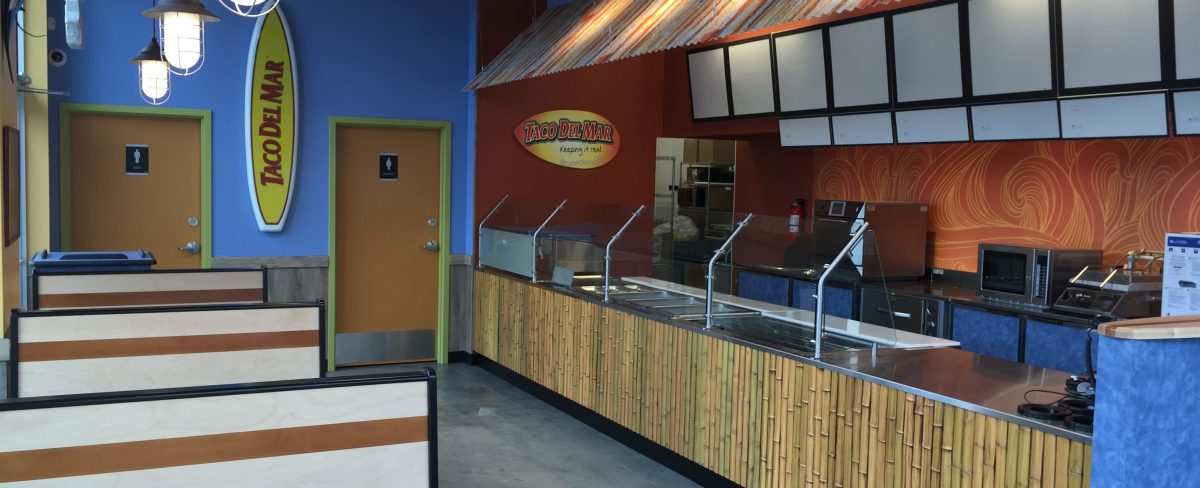 Taco Del Mar
In Time to Dine
Tenant improvement completed ahead of schedule, and to rave reviews
Taco Del Mar
In Time to Dine
Tenant improvement completed ahead of schedule, and to rave reviews
This Taco Del Mar restaurant was built in the Timberline Village Shopping Complex, located in Campbell River, BC.
Constructed to meet franchise design standards, this fast-food restaurant was completed ahead of schedule to make way for training prior to its grand opening.
This Taco Del Mar tenant improvement project included:
• Seating area with self-serve beverage counter and two 2 barrier-free washrooms
• Front counter with assembly station, ovens and grills
• Storage and dish-wash area with walk-in cooler
• Brand specific decorative elements including surfboards, shed roof above the beverage counter and graphics
In addition to installing owner-supplied equipment, AFC Construction coordinated relevant rough-ins, site prep and product delivery as part of its project scope.
As one of three franchises owned and operated by the client, Jennifer Stephens remarked on the superior construction quality of the tenant improvements competed by AFC.