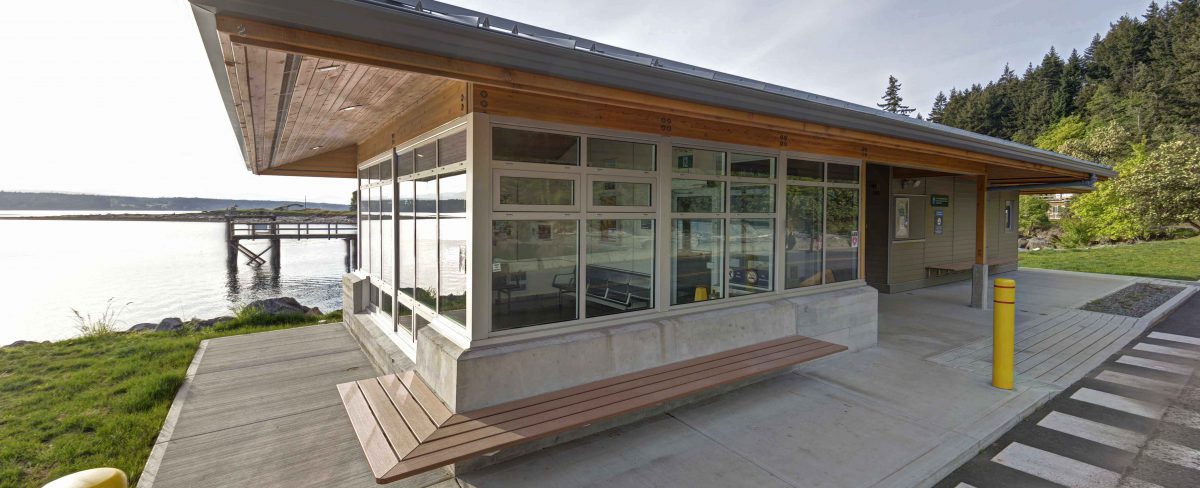 BC Ferries – Denman and Hornby Islands
A Place to Rest for Weary Travelers
Three remote buildings completed on a compressed schedule
BC Ferries – Denman and Hornby Islands
A Place to Rest for Weary Travelers
Three remote buildings completed on a compressed schedule
BC Ferries Corporation required three buildings, totaling approximately 2,400 square feet, to be constructed at its ferry terminals located on Denman and Hornby Islands. The buildings include waiting rooms and washrooms for the patrons as well as a staff room for ferry crew.
Extensive and careful planning was a key element to the success of this project. The construction sites were very tight and close to water. The ferry terminals remained in use throughout the project and the one or two ferry trips required to access the construction sites added further obstacles to the scheduling.
Site works include additions to the break water adjacent to the buildings and a complete overhaul of the sites' septic systems. To facilitate the schedule and minimise site impact, this project features pre-fabricated design/construction packages for the buildings. Other aspects of the project include cedar details throughout the buildings and durable wall panels in the washrooms
As General Contractor for this project, AFC Construction successfully navigated a very short project timeline.
Maintaining An Essential Transportation Link
Successfully addressing environmental and operational considerations