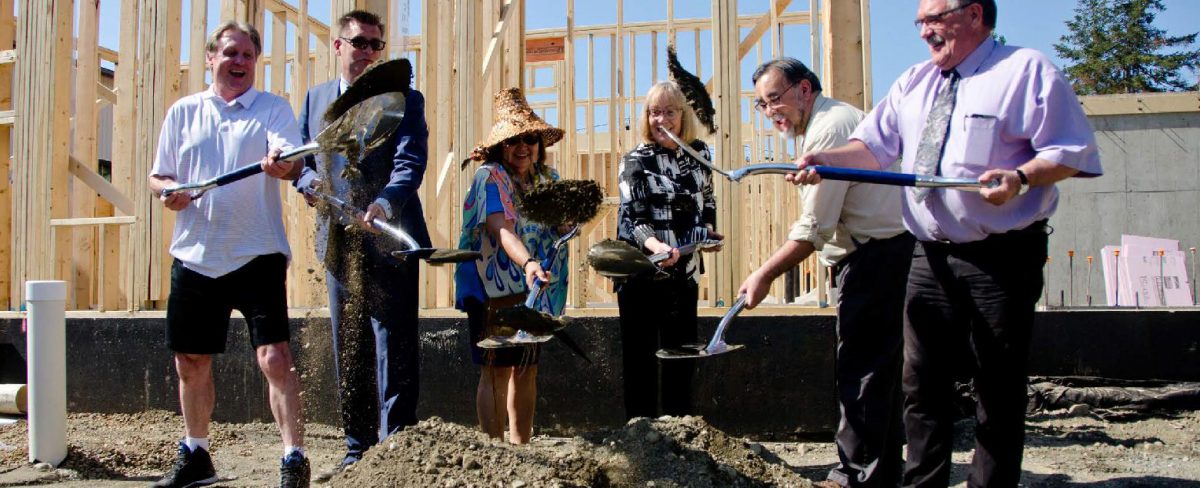 Braidwood Apartments
Collaboration at it's best
Affordable housing close to services, amenities and public transit
Braidwood Apartments
Collaboration at it's best
Affordable housing close to services, amenities and public transit
The product of more than ten years of planning, this building is the flagship project for the provincial and municipal affordable housing strategy, and the source of great pride throughout the community. The 35-unit development provides affordable housing for low-income singles and those at risk of homelessness, with a focus on Indigenous peoples. Some suites will be rented at the provincial shelter rate, others will be rented at a slightly higher rate but still below average rental pricing in the area. The building will be managed by a partnership of two non-profits, M'akola Housing Society and Wachiay Friendship Centre. Together they will offer outreach, counselling and other supports to tenants.
The three-storey, wood-framed building contains a mix of studios and one-bedroom units.  Each unit has 9' ceilings, its own kitchen and four-piece bathroom, and is bathed in sunlight and warm inviting colours. Two of the suites have been designed for accessibility, and each floor has a common room and laundry facilities. The ground floor includes a manager's residence and office space.
The building design met Step 3 of the BC Step Code for commercial buildings by using a combination of air-tight assemblies and mechanical ventilation systems to meet the requirements.
The construction team was met with several logistical challenges. Installing site services at the same time as forming foundations, while still maintaining access for machinery and materials on the very small site, posed continuous operational constraints. During the civil work, special attention was required to protect the steep slope cut to maintain the structural integrity of parking lot and building on the adjacent lot while erecting a ten-foot high retaining wall structure. As well, after vertical construction started, the process of building involved careful juggling of minimal lay-down area and material and equipment storage space.
In the end, the construction team met the planned schedule for handover, succeeded in reducing the project's landfill waste by more than 85%, and was completely accident-free for the entire 12-month duration. But AFC's proudest achievement of this project was the outstanding working relationship built between our superintendent and project manager, the client's development manager and building operator, and stellar architect – such a collaborative team made this project one of our all-time favourites.
M'akola Housing Society's Braidwood Apartments is a high-quality, energy efficient building providing 35 new affordable housing units in the Comox Valley. AFC Construction were a pleasure to work with throughout the construction and were able to complete the project under budget despite a volatile construction market. Guthrie, Cheryl, Dave, and the team have a collaborative and organized approach, and have made a remarkable contribution to affordable housing in the region. Thank you!

Lindsay Monk, M'Akola Development Services