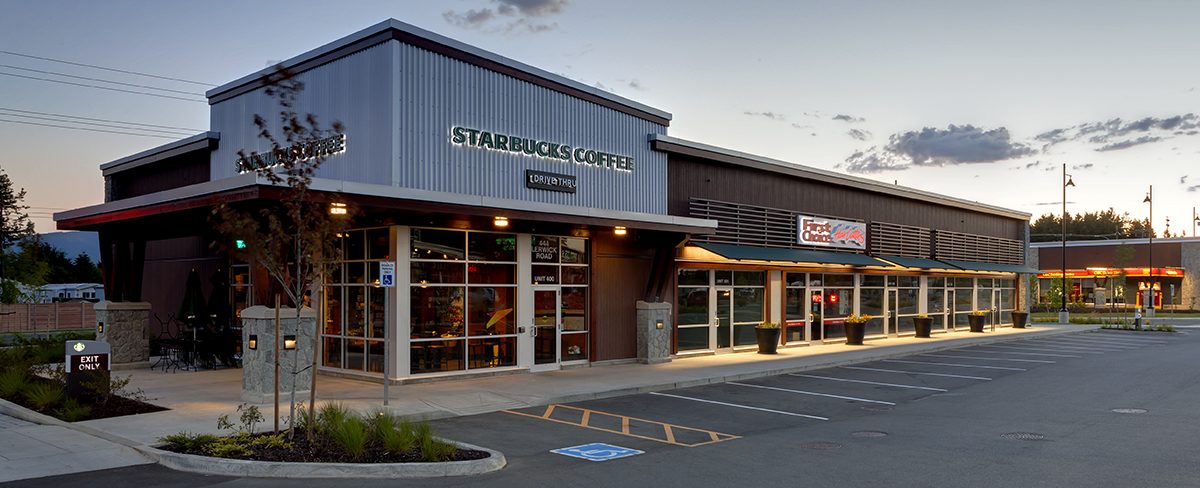 Crown Isle Shopping Centre
Shopping meets Sustainability
Open on time despite an aggressive schedule
Crown Isle Shopping Centre
Shopping meets Sustainability
Open on time despite an aggressive schedule
Crown Isle is a high-quality, neighbourhood shopping centre in Courtenay, BC consisting of approximately 130,000 ft2 of retail space and 10,000 ft2 of second floor office space. The shopping centre was designed to achieve sustainable design levels exceeding the City of Courtenay's objectives. Major tenants include Thrifty Foods, CIBC, and Starbucks.
As part of the Crown Isle Shopping Centre, AFC constructed a total of four buildings comprising over 28,000 ft2 – three buildings in Phase 1 and one building in Phase 2 of the shopping centre's expansion.
This large, structural steel commercial project highlights AFC's knowledge and expertise regarding steel building construction and various building material interfaces.
The three buildings built by AFC Construction during Phase 1 were originally tendered with a 6-month schedule to meet national franchise tenants. The award was delayed five weeks but the hand-over/completion date was maintained to avoid lease delays.
AFC condensed original schedule by five weeks and met the owner's hand-over requirements by closely coordination with all trades and implementing a six and seven day per week work schedule.
Local and Sustainable
A quality build constructed on a strict schedule