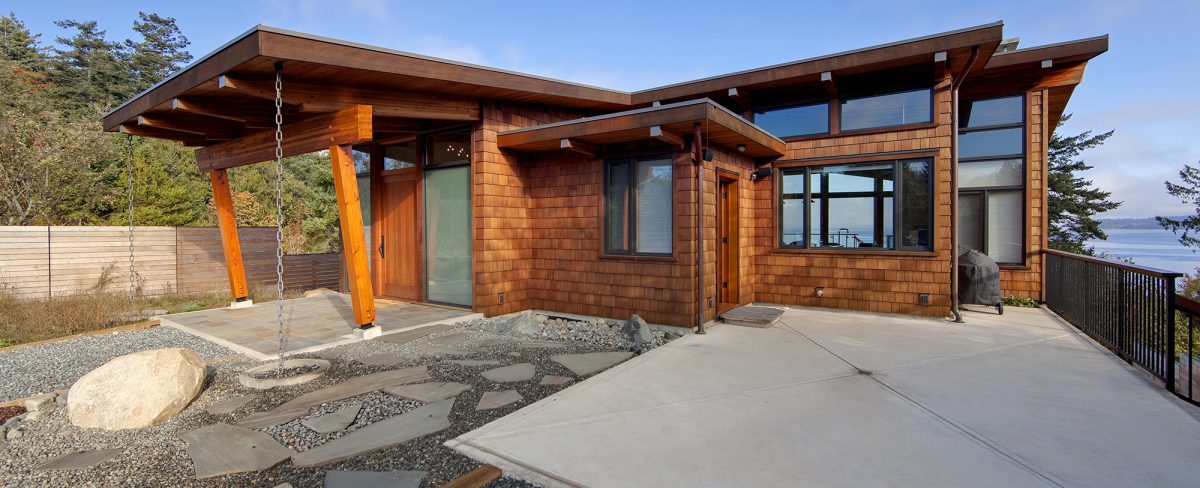 Hanna Residence
A Tribute to Wood's Beauty
Detailed advanced planning helped create this distinctive waterfront home
Hanna Residence
A Tribute to Wood's Beauty
Detailed advanced planning helped create this distinctive waterfront home
This distinctive, three-storey home is built on the Denman Island's waterfront. A two-storey concrete wall cuts into the sloping bank forming the back wall of the first and second floors. The top floor, with the main living area and entry, is at road level.
The residence's curved roof, glazed façade and large decks on the upper two levels point to the ocean vista. A steel spiral staircase connects the upper decks with the lower level and beach access. The interior is defined by large exposed timbers, wood decking and custom wood doors and cabinetry.
AFC's wood shop constructed many of the home's fine wood features, including the extensive cabinetry and metal clad wood doors.
The building site was small with a steep slope; extreme sensitivity to the surrounding environment and neighbouring properties was essential. This project was complex, and required detailed, advanced planning and careful coordination amongst all stakeholders to bring it to successful completion.
Our project with Alan and the other members of the AFC team took place over the course of 24 months. During that time, we developed a highly effective working relationship that continues to this day. AFC earned and has maintained our trust and respect. They told us what they were going to do…and they did it. AFC exceeded our expectations on all fronts. We enjoyed our project with AFC, and we would actively seek out Alan, Guthrie and the AFC team again on any future project that we undertake.

Blake Hanna
Stunning, West Coast Retreat
Renovation and expansion that doubled this waterfront home
Ocean Views and Amazing Outdoor Spaces
A new family home on Hornby Island brings the outside in.
West Coast, Residential Elegance
Innovative construction techniques abound in this complex residential design