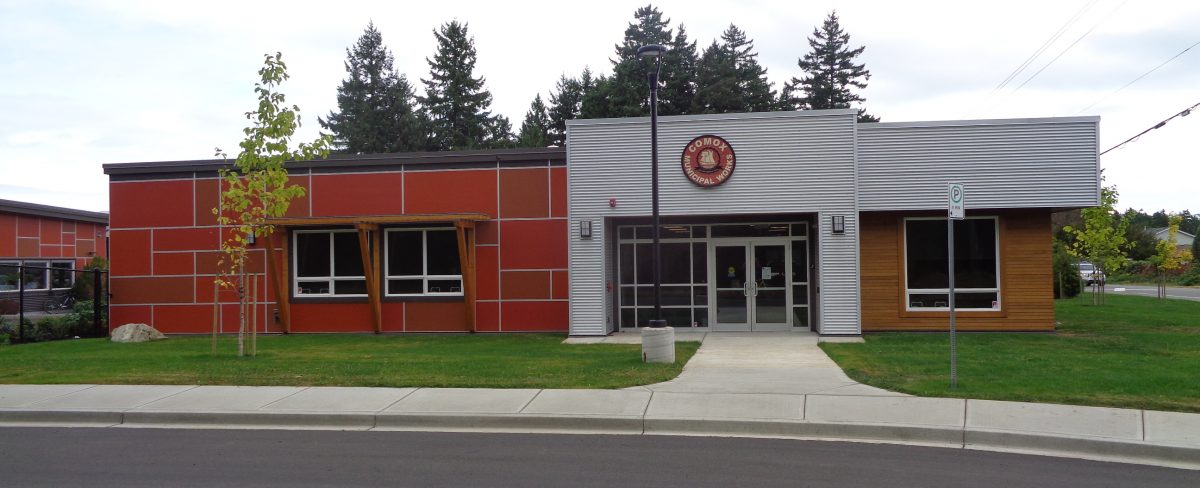 Town of Comox Public Works Yard
A Yard That Works
A new home for those keeping the Town of Comox running smoothly
Town of Comox Public Works Yard
A Yard That Works
A new home for those keeping the Town of Comox running smoothly
This project included three buildings; two existing buildings were replaced and a third added to support the Town of Comox Public Works Yard operations. Built in two phases to allow the municipal works yard to remain operational at all times, a high level of cooperation and coordination amongst all stakeholders was critical to the successful completion of this project.
Due to functional programming issues and the requirements of construction staging, the buildings were separated into three distinct structures. Block 1 contains the Public Works activities and the storage bays for machinery which must be housed in temperature controlled conditions. Block 2 contains Parks activities and covered storage for the Parks Department.
Block 3 houses the administration functions for Parks and Public Works as well as change and staff rooms for the crews of both departments.
After demolition of the first building, an 11,732 ft2 pre-engineered building was erected for the mechanical and carpentry shops, and temporary administration offices. Subsequently, a new wood-framed office and garage building were constructed with exterior materials of cement board and corrugated cladding. Timber-framed shade trellises were pre-fabricated in AFC Constructions' shop and installed onsite.
This project is LEED Silver compliant and was completed on time and within budget.
A big part of the reason we hired AFC Construction for the Town of Comox's Works Yard was their reputation for quality construction and attention to detail. And they delivered. Throughout our project, the AFC team were always approachable and easy to work with. We really appreciated their commitment to being responsive, maintaining effective communication, and never shying away from tackling any issue or construction challenge. It was a great experience working with them.

Allan Fraser, Town of Comox
A Place of Renewal
A community minded, environmentally-friendly recycling centre