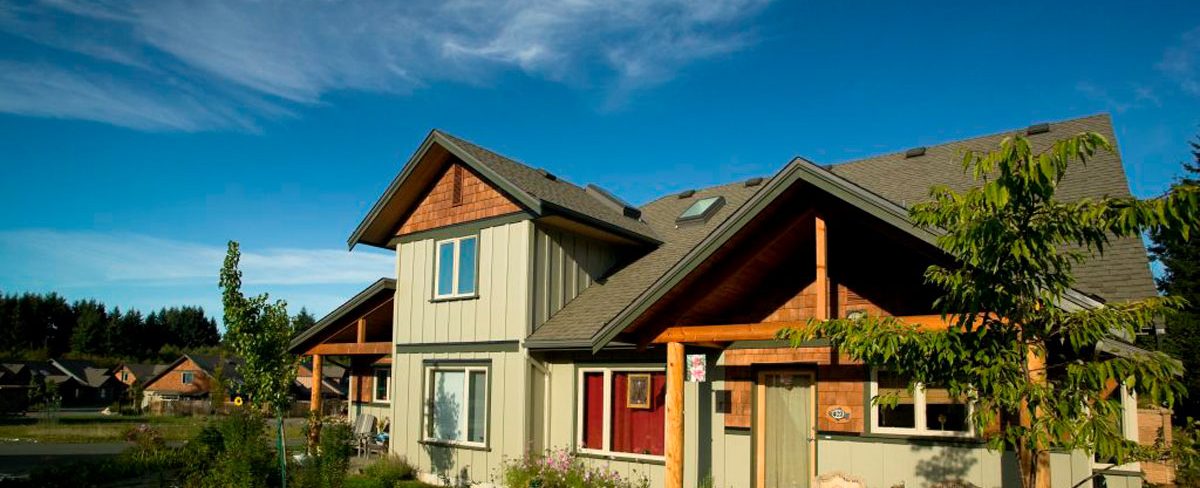 Creekside Commons
An Award-Winning, Co-Housing Community
The first co-housing project in the Comox Valley based on sustainability principles
Creekside Commons
An Award-Winning, Co-Housing Community
The first co-housing project in the Comox Valley based on sustainability principles
AFC was pleased to play a major role in the first sustainable co-housing community in the Comox Valley. Creekside Commons is based on sustainability principles; sharing common facilities reduces the environmental impact of this community while creating strong bonds amongst its residents.
The project features 36 half-duplex units and a large common house dispersed over 9.8 acres. The homes are grouped around three common green spaces and the central common building with shared dining, kitchen, lounge, meeting facilities and guest suite. The parking lot is situated at the entrance to the community, separated from the homes, and the site design includes a wetland and walking path through a nearby park.
As construction managers, AFC helped the owners meet their goal of high-quality, sustainable construction while maintaining cost effectiveness. Throughout planning and construction, AFC worked alongside a diverse group of stakeholders, paying special consideration to the sensitive habitat surrounding the project, especially the nearby salmon creek.
Creekside received a 2008 VIREB Award of Merit in the Multi Family Townhouse category.
The project was complex and unique and there were many challenges relating to site maintenance and design – particularly in relation to the habitat sensitivity of the adjacent salmon-bearing creek. As well, the resident driven aspect of the development required AFC to work with a large and diverse client group. The good will, expertise, and strong communication skills of the AFC team resulted in these challenges being handled competently and effectively. The project was completed on time and on budget, which is a real accomplishment in today's construction climate. In my opinion AFC Construction provided excellent value for the client and I would be delighted to work with the company again.

Ronaye Matthew, President CDC