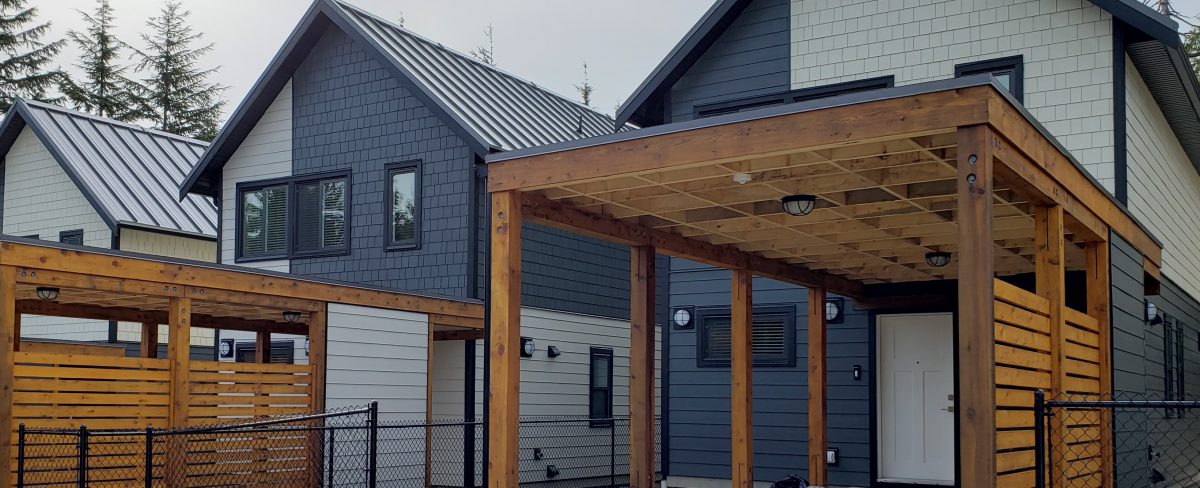 Raincoast Commons
A new West Coast community
Living large in a smaller house
Raincoast Commons
A new West Coast community
Living large in a smaller house
Engaged during the design phase, AFC worked with client and consultants to find a balance of use and cost. The intent of this development is to create affordable real estate with pricing below the typical freestanding homes in the area. Thoughtful design allows for smaller foot prints yet providing a comfortable living space for the inhabitants.
Raincoast Commons is located on a rocky and sloped infill property in an established neighbourhood in Ucluelet. A total of 20 homes, ranging from 700 to 1100 sf, will be built around a treed common area and connected with gravel walk ways. Construction will take place in 3 phases, with the first phase of 5 homes completed early 2019.
The civil design required rock blasting to prepare the building pads and installation of site services. The storm water management plan reduces post development runoff with permeable gravel walkways and infiltration ditches.
The smaller homes have functional designs with ample windows and skylights to let the light in. They are finished with low maintenance, durable finishes and energy efficient appliances to keep the cost of living down.
Working with AFC on our West Coast housing project, Raincoast Commons, was a joy. From the quality of the final building product, to the level of expertise and service provided, AFC exceeded our expectations on all fronts. This company prides itself on building to a higher standard and it shows, in not just words, but in results.

Joe Sopp, Le Fevre & Company Property Agents Ltd