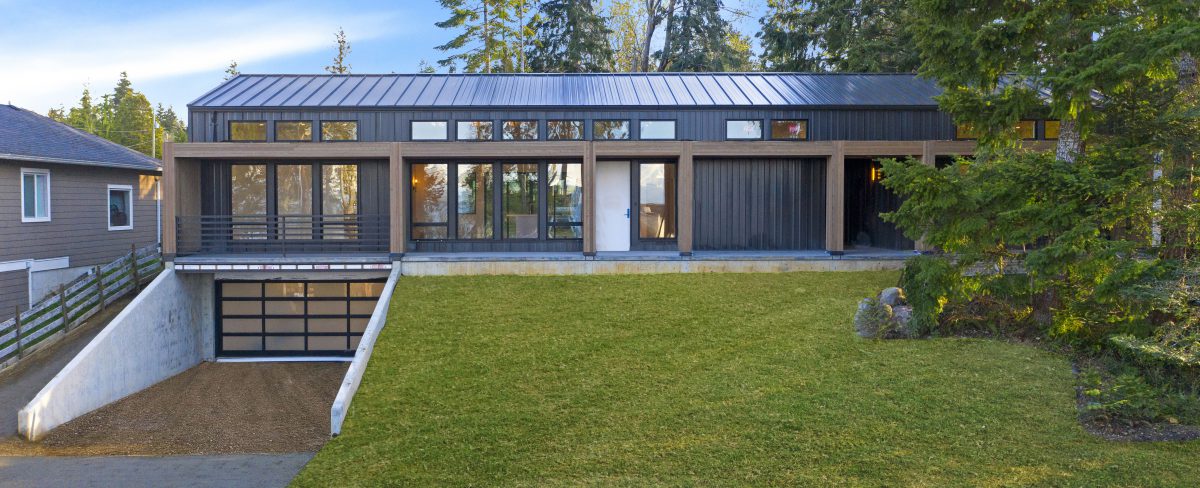 Farrer Residence
Miracle Beach House
Beautifully designed
Farrer Residence
Miracle Beach House
Beautifully designed
The Miracle Beach House was constructed beginning in the late Spring of 2021 and completed late Winter of 2022, giving us ideal weather for the site work, foundation, framing and water-proofing of the residence.
The home consists of a 950 Square Foot garage which was built into the natural slope of the property. Atop the garage is a 1450 SF two bedroom dwelling with 500 SF of which built on adjacent slab on grade.
The project also includes a 550 Square Foot semi detached 1 bedroom guest house separated by a seven foot wide breezeway but sharing a common gable roof finished in dark standing seam metal panels with no overhang. The standing seam roof waterfalls on all other faces of the building giving the appearance of the seam flowing over from roof to wall uninterrupted.
At nine feet front and back and throughout the breezeway is a flat roof supported by large posts providing additional privacy and another layer of design completely clad in western red cedar with clearstory windows above. This flat roof provides covered outdoor living for over 1300 SF with patio slab completed with deep Onyx colored concrete, lightly ground to expose salt and pepper aggregate, polished and sealed to a light gloss finish.
With the help of Nicola Mackay (Blackthumb Interior Design), the interior is tastefully finished with light colored maple floors, custom millwork throughout, stone countertops, curbless tile shower with micro-cement walls in ensuite and countless interior design splashes that keep each location of the house fun and interesting.